The event was a success, and Jill was a pleasure to work with. Jill was very friendly and professional with the kids. I think the kids thoroughly enjoyed the paintings and the quality of work was exceptional.
Arin W, Megastar Financial Corp 9/10/16
She did great, just posted Yelp review for you. Thanks for a great job!
Melissa W, Denver 7/30/16
Hi Leslie! Everything went very well. Jill was great! I didn't even notice any minor late arrival.  Jill was friendly and professional and did a great job painting all the faces.  Thanks again for everything and we will look forward to anther party sometime soon. I hope you had a good trip as well!
Madison M, Greenwood Village 5/14/16
She did arrive on time her work was excellent! Kids had so much fun with her and she went above and beyond my expectations! Thank you so much!
Judy M, Northglenn 5/1/16
All went great, on time, well done, and super friendly. Thanks for making this happen. Cheers
Adam S, Denver 4/23/16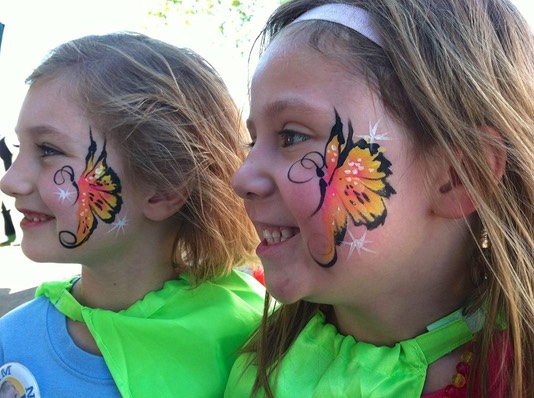 Hi Leslie, Face painting was a hit. The kids thought it was so special. Jill was right on time and very professional and friendly. She even let my daughter create her own art on her arm too. Everyone's face's turned out wonderful. (I secretly wanted mine done too!) I will gladly post a review online! Thanks again for a memorable treat for my daughter's birthday!
Abi M, Castle Rock 3/26/16
Jill was great!  She arrived on time and was great.  Will definitely keep you in mind for next time.   Thanks again.
Jil B, Brighton 3/5/16
She was a total hit. Yes, she showed up right on time and was extremely professional and a very busy lady. The results were fabulous! We absolutely would use Snappy Face Painting again and would recommend you to anyone that asks.
Holly D, Kent Denver School 6/6/15
Oh my gosh!  She was wonderful!!!  She even ended up painting on some of the members of our senior leadership team!  Personally, I felt like she was just a member of our team here at LABS. If she hasn't already told you, you should get the story about Skeletor (or whatever the skull guy would be called).  She'll know exactly what you're talking about!  She did an absolutely excellent job.  Thank you again! 
Kristen B, LABS inc 8/29/15
Just wanted to thank you for sending us Jill. She did a great job and made the kids feel so special! She even had a menu of arm designs for kids who were timid and made sure everyone Who wanted their face painted was taken care of.
Jamie K, Aurora 11/8/15
I would recommend your company to others. Your artist was willing to do "special request" designs for the kids and we really appreciated that. Great job and thank you!! 
Mary Jo M, Highlands Ranch CO 8/1/15
Thank you for checking! Your gal arrived on time, was very friendly and professional and the work she did was wonderful. We are very happy with our experience and would highly recommend you to others. Have a great day!
Stephanie A, Long Mechanical Solutions 9/13/14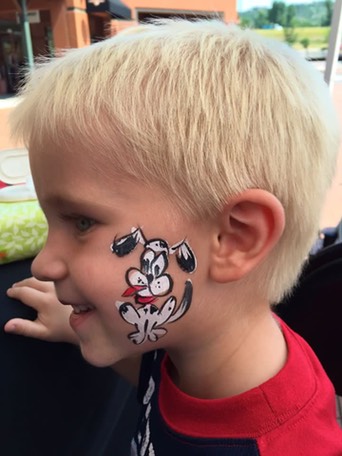 Jill was fantastic! She did in fact arrive early to set up etc.  She was very nice and just wonderful with the kids.  Although it was extremely hectic for me, she kept right on task and was doing incredible face paintings on the children.  I would definitely recommend Snappy Face to my family and friends for their next upcoming events.  Thank you so much and I look forward to working with you all again!
Renee G, Northglenn CO 8/6/14
Thanks for the follow-up.  Yes, the painter arrived on time, was friendly and professional and did wonderful work.  She was a nice addition for the folks at the fair.
Grace G, 9Health Fair
Jill was great! She arrived before any of the kids came, very friendly and professional and her work was wonderful. I would not hesitate to use your services again in the future.
Matthew R, Littleton CO
She was great, friendly and patient with the kids. Very happy with her work, the kids were very happy! Thank you!
Patty C, Aurora CO
Jill was fabulous! She was on time, so good with the kids, and her paintings were amazing. We loved it!! Best part of the party! Thank you! :)
Meredith B, Highlands Ranch CO
Jill was prompt, friendly, excited and ready to go! She did a tremendous job with person wishes and the like. She gave special attention to each kid and her art work was incredible!
Alli A, Boulder CO