When considering a face painter for a party, there are numerous qualities of a face painter to consider. Pricing is very different from company to company. Speed and designs can vary. Some offer balloons in addition to face painting. Comparing different companies can be like comparing apples to oranges. The following are some common questions about hiring Snappy Face Painting artists.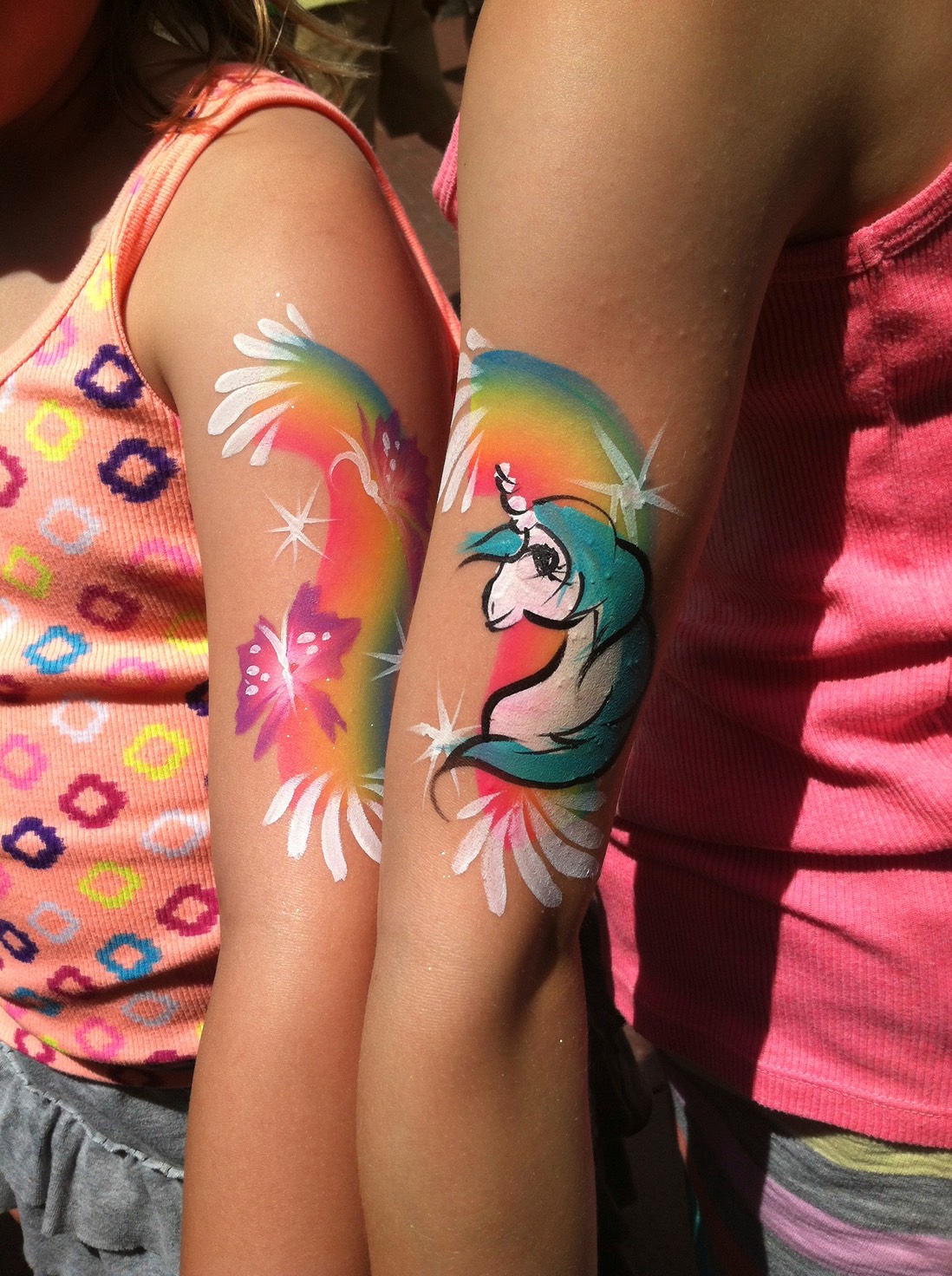 Do you offer balloons?
No, we offer the very best face painting for a very affordable price. Our painters are fast, skilled in their craft and are very professional and fun!! You can pay up to $100 an hour for artists that have the talent to take requests and can create pieces of art! We have very extensive choices for designs and our artists continually learn and grow with the latest techniques and advancements in face painting by training every year. A professional face painter can enhance a party! Adults get into the fun as well when face painting is fabulous. Skilled face painting can be the wow factor at your party!
I only have 8 children coming to my party and want a face painter, can I still book? 
Yes, we have a 1 1/2 hour minimum so you can book up to 15 children in that time frame.
Do you use FDA approved products? 
Everything from glitter to glue to face paint must meet FDA guidelines. Our products are all FDA approved for the use on skin. Glitter must be cosmetic as well and not craft glitter. Glue for jewels is also a cosmetic glue that is safe for skin. And of course all of our face paint cosmetic makeup is the best vibrant professional makeup that is safe for skin.
Can the artist stay longer than the scheduled time? 
Yes, if we don't have anything booked right after your time slot. It is always best to ensure your guests will not be disappointed by scheduling enough time to accommodate everyone.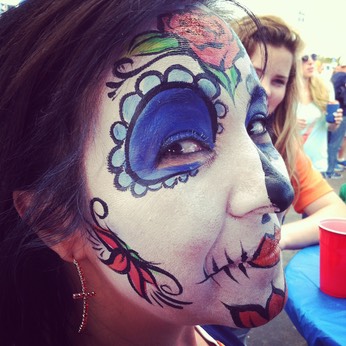 What kind of designs do you have? 
We have a huge selection of designs to choose from. Our selection is anything from super heroes, dia de los muertos, scary skulls, princess crowns with beautiful jewels, gorgeous garden designs with roses and a multitude of animals to choose from! We paint arms, cheeks or full face art. You are not limited to just basic face painting (our designs are created for impact!). We also paint our designs use one stroke techniques to enhance painting with multiple colors in just one stroke. This allows speedy application with impressive results!
Do you paint special requests? 
Yes, we have fabulous artists that love to take requests! It also might add to your total time as these take a little longer.
When is your start time? 
We will arrive 10 minutes early for set-up and be ready to paint by the designated start time.
Do I need to provide anything?
Just a table and 2 chairs (a small card table will do also). 
You can be assured we are fully insured.
Call: 720-371-7651